Carpet Cleaning Bayswater
Enter your postcode to get a free quote.
Enter your postcode for a free quote
Carpet Cleaning Bayswater
ACC Carpet Cleaners provides superior carpet cleaning services in Bayswater. Carpet cleaning is our specialty. We have been in the business for over 50 years. We provide a variety of services to residential and commercial customers. Our goal is to make your carpets look as good as new.
Why You Should Choose ACC Carpet Cleaners
The first step in cleaning carpets is to inspect them. This gives us the chance to select the right carpet cleaning product. Once we have identified the stain type, we can then select from our wide range of cleaning agents and machines to treat the carpet with the best solution.
ACC Carpet Cleaners proudly uses eco-friendly cleaning products sourced directly from reputable companies. Our high-tech equipment is some of the best in the UK. Our years of experience combined with top-quality tools ensures that every visit is a success.
We offer a superior rug cleaning service for Persian and Oriental carpets, in addition to standard area rugs.
For Persian and Oriental rugs, professional cleaning is necessary. Incorrect cleaning techniques or using the wrong products can cause colour to fade or materials to deteriorate, reducing their value. ACC Carpet Cleaners can clean your rugs to prevent this from happening.
ACC Carpet Cleaners is well-known for its flagship service: residential and commercial carpet cleaning. We also offer premium cleaning services in Bayswater, such as:
Leather Cleaning – Leather is prized for its luxury appearance, supple feel and durability. Leather chairs and couches require regular, proper care. ACC Carpet Cleaners is a specialist in this kind of care.
Upholstery Cleaning – The upholstery is often the most neglected aspect of cleaning your house or office. Businesses and homeowners often hire professionals to keep their carpets and rugs in great condition
Curtain Cleaning – We offer a fast and economical curtain or drapery cleaning service for carpeting, upholstery, and other items.
And More! – Searching for other cleaning services in Bayswater, UK? Click Here.
In all of our services, we use only the safest, eco-friendly carpet cleaning agents. This not only ensures the health and safety of your property but also the planet. At ACC, we're committed to the very best service possible, and that includes helping to promote a safer future.
We offer a range of cleaning services in Bayswater
Another important factor to consider about professional carpet cleaners is the use of safe cleaning agents. In most cases, home-cleaned carpets are dangerous to our health and the environment.
This is because we are using a number of chemicals and products that are not designed to be safe in our home. On top of that, they are often not designed to be safe on a carpet.
This is because the large amounts of moisture present in the fabric require specific methods and equipment to be safely removed.
Our professional carpet cleaners have strict guidelines for the use of cleaning agents. This is because many cleaning agents are not safe for use in the home, and have been known to cause harm to humans and pets.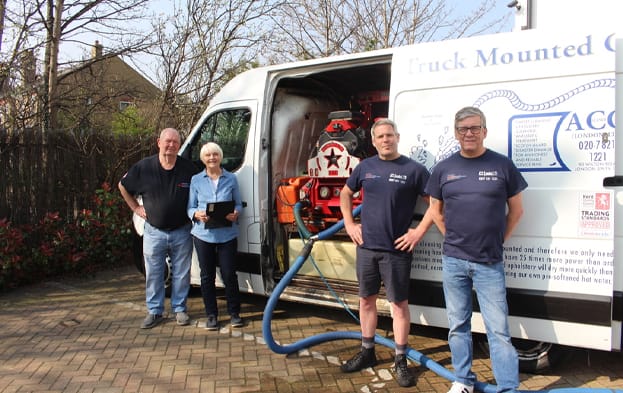 Testimonials
As per usual the carpet was cleaned to a fantastic standard so thank you.
Just a short email to let you know how very pleased I am with the cleaning of my lounge and stair carpets. Your workers were professional, quick and friendly and took the time to explain everything to me. I will certainly be recommending you to all my friends and will be using you again.
On Sunday evening at 11:30, Barnaby and his colleague turned up, as arranged, to clean the carpets at the restaurant. They were both punctual and cheerful. I let them in, showed them where the water and power points are and left them to it. They completed the job – by 2 o'clock and left quickly and quietly. I had to write because the result, frankly, is stunning. I hate to sound like a commercial, and it's hard not to, but the carpet prior to their arrival was so stained and marked I had little hope of really reviving it. I thought perhaps it might be made to look halfway decent and that I would replace it in a couple of months. Imagine my surprise and delight, therefore, when I stepped into the room to find, truthfully, a carpet that looks good as new! The boys did a superlative job and yet, I shouldn't be surprised really, because, when they came to clean the carpet at my apartment, which was looking equally beyond saving, the result was just as breath-taking. Thanks so much and I commend the service you provide from top to bottom. The work is faultless and Barnaby and his colleague on both occasions have been efficient, cheerful, and charming. I would happily recommend you.
Bibendum Restaurant, Michelin House, Fulham Road
I'm more than happy to provide A Cleaner Carpet with a reference. They've helped me out on numerous occasions extracting the rainwater and cleaning the carpets when one of my clients has had a flood through their roof. I've been using them for over twenty years and they've never let me down.
You recently completed carpet cleaning throughout one of our rental properties and once again your operatives have excelled themselves. When the last tenant vacated the Landlord was horrified and under the impression all the carpets would have to be replaced, but we persuaded him to have them cleaned by ACC and make a decision afterwards. Needless to say, you've done a fantastic job, the Landlord was really impressed, new tenants have now moved in and everyone is happy. Well done, keep up the good work and I look forward to our continued business relationship.
JDM Lettings, Bromley, Kent
Many thanks for a splendid job on removing the marks on my carpet.
We have been using ACC Carpet Cleaners for a number of years and have found the company to be reliable, trustworthy and they do a great job of cleaning our carpets and upholstery.
Royal Ocean Racing Club Ltd
ACC have been working their magic on our rugs for over 25 years and I cannot recommend them highly enough. We recommend ACC to all of our clients, both private and corporate, for all their carpet and upholstery cleaning needs. Their expertise in dealing with heavily soiled carpets and difficult stains is unrivalled and there is no job too big, or too small. All the team at ACC are extremely helpful, reliable and thoroughly lovely people.
Thanks so much for your rapid response.
The carpets, which were heavily soiled in some areas, came up brilliantly clean, certainly much better than previous results obtained from other cleaning companies. Obviously a testament to your truck mounted equipment. I also appreciated the precautions taken by your operator Barney, to insert foil underneath wooden furniture to prevent staining. Barney was exceptionally careful, helpful and courteous, and worked extremely hard to move furniture around. Clearly a professional!
ACC CARPET CLEANERS: THE BAYSWATER CARPET CLEANING EXPERTS
Our team of skilled technicians at ACC Carpet Cleaners Bayswater undergo continuous training to stay updated with the latest techniques and innovations in carpet cleaning. And our dedication to providing excellent customer service and exceeding client expectations is second to none.
CUSTOMISED SOLUTIONS FOR EVERY CLIENT
We understand that each client's needs are unique, which is why we offer tailor-made solutions to suit individual requirements. Our flexible scheduling means you can book our services at a time that's convenient for you. With ACC Carpet Cleaners, customer satisfaction is always our top priority.
PET AND CHILD FRIENDLY SOLUTIONS
At ACC, we recognise the significance of establishing a secure and hygienic space for your loved ones. That's why our approach involves utilising non-toxic, environmentally friendly cleaning products that pose no harm to pets or children. With our services, you can trust that your home will be thoroughly cleaned and free of allergens.
END-OF-TENANCY CARPET CLEANING
Moving out of a rental property? We offer specialised end-of-tenancy carpet cleaning services to help ensure your property is left in pristine condition for the next tenant. Our thorough cleaning process will help you avoid any disputes over the state of the carpets.
MATTRESS CLEANING
A clean mattress is essential for a good night's sleep. Our mattress cleaning service in Bayswater removes dust, allergens, and odours to help create a healthier sleeping environment for you and your family.
INTERIOR FLOOR CLEANING
In addition to carpet cleaning, we also provide expert interior floor cleaning services. From hardwood floors to tiles, our team is equipped to handle a wide range of flooring types, ensuring your home or business looks its best.
OFFICE CARPET CLEANING
We also cater to businesses in Bayswater, offering high-quality office carpet cleaning services. No matter the size of your office or commercial space, you can rely on ACC to cater to your requirements and assist in fostering a clean, professional atmosphere that leaves a lasting impression. Our team work efficiently and discreetly to minimise any disruptions to your daily operations.
ANCILLARY CLEANING SERVICES
Looking for additional cleaning services? We offer ancillary cleaning services, such as upholstery, curtain and leather cleaning to help you maintain a clean and fresh living or working space. At ACC, we offer the essential services needed for a safe and healthy environment. So get in touch with us today and let us know how we can help!
Schedule Your Cleaning in Bayswater Today!
If you are ready to see for yourself the difference we make, contact us today to schedule any of our services to meet your needs. You may do so by calling our Kent office on 08000 135 222 or our London office on 020 7821 1221.
Ready to Make an Appointment? Call ACC Carpet Cleaners Today
If you would like to schedule any of our services, we invite you to give us a call on 020 7821 1221 (London office). You can also contact us at our Kent office on 01689 857932. We are excited to show you the ACC difference, so call today to get started.